Hiring an ideal iOS app development company really matters particularly if you intend to deliver the best experience to your target users. OM Software's iOS app developers are committed to deploying a proven strategic approach to app development reckoning with the needs of a business, design look and feel, user experience, app functionality, and debugging needs to ensure the most feasible and user-friendly submission and approval process for Apple's App Store.
Our iOS app developers possess a vast experience of working on a range of apps including genres viz. Business, Healthcare, Entertainment, Lifestyle, Technology, Travel, and so on and delivering guaranteed results.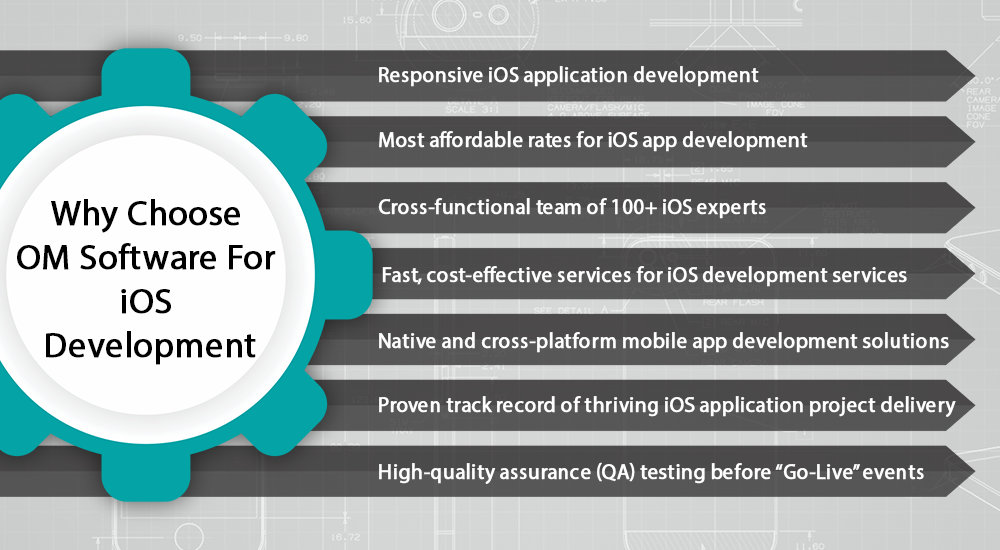 Why Choose OM Software For iOS Development:
Responsive iOS application development and project tactic
Great help with regards to getting apps in Apple's App Store
High-grade mobile app development solutions
Most affordable rates for iOS app development and design skills
Cross-functional team of 100+ iOS experts
In-house, front-end experts: Business Analysts, UX/UI Specialists & Designers
Native and cross-platform mobile app development solutions
Open, crystal-clear and two-way client engagement
Proven track record of thriving iOS application project delivery
High-quality assurance (QA) testing before "Go-Live" events
"We have a team of seasoned iOS developers who know very well how to utilize the native features of the iOS to Make An iOS Application More Dominant And Result-Oriented. They give their heed to using a user-friendly interface that can just appeal to the application user, prompting him/her to make use of the app more often. Our developers are knowledgeable and ingenious and entailing the need for less resource for developing an iPhone app and this furnishes them with the knack to have power over the time and cost of the application development," said one of the representatives of the Company.