By OMSOFTWARE - Web & Mobile App Development Company | Pune
Oct 09 , 2017
What does a mobile app do? It streamlines the communication system by allowing stakeholders readily and effortlessly access it for increased, enhanced and uncomplicated content consumption; which they can use thereafter to chase a goal, solve a problem or meet a need. Now, when it comes to on-demand business, such as Uber and Airbnb, what role does a mobile app play?
To uncover the answer, we need to first understand what an on-demand business does. It fulfills a customer's demand through immediate and thoughtful provisioning of goods and services. According to authentic data served by respected institutions such as Harvard Business Review Report, the on-demand economy is growing steadfastly with a whopping 22.4 million consumers annually and $57.6 billion in spending.
With the help of mobile applications, on-demand businesses can easily and effortlessly meet their standalone needs. A mobile app could have a number of key deciders and important features; some of which necessarily include -
It offers a simple, uncomplicated and easy to use interface so that the buyers can easily sign up, login, track the orders timely and keep updated about all the latest happenings at one place
Lets users quickly and simplistically order new products, delete, improve existing orders
Simplified order tracking and delivery management
Extra layers of protection for hassle-free online transaction
Which type of businesses should use mobile applications to cater to their evolving on-demand requirements?
Whichever industry you belong to - educational institute or a retail store, a travel agency or a content marketing business; if you have to deal with quick provisioning of goods and services with your stakeholders as we mentioned earlier, you need to start using the benefits of mobile applications.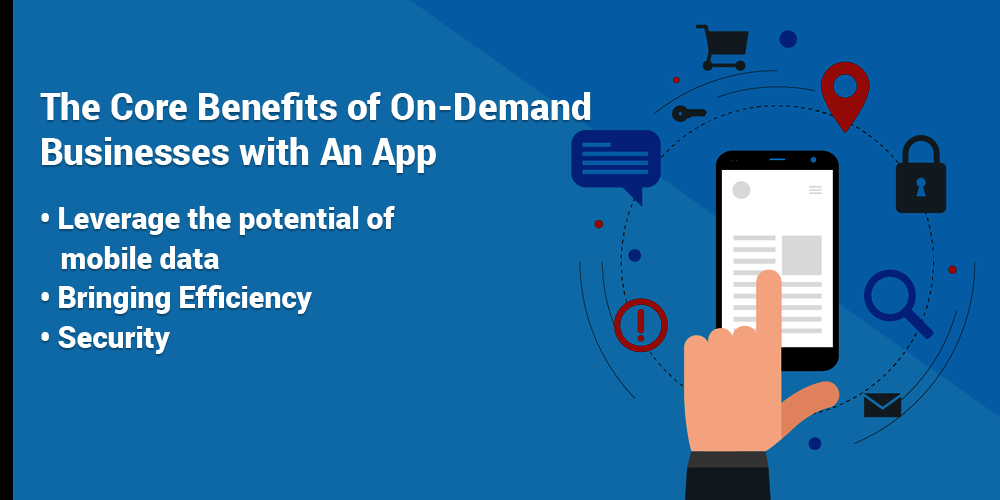 Leverage The Potential Of Mobile Data
In a world which is increasingly mobile driven, nothing can be as foolish as not having a mobile app to connect and collaborate with your targeted audience.
Bringing Efficiency
If you have an on-demand business spread across continents, a mobile application can work like a magic. It can reduce productivity errors, brings more accountability into the system and uncomplicate the entire process of sales and employee retention.
Security
With a mobile application, which is developed using state of the art system, and highly sophisticated mechanisms; you can easily assure to get highest value on your investment and not worry about the security.
Other than these, having a Mobile App Can Help Your On-Demand Business to scale up, provide the affordability you wanted, gives you access to unlimited business opportunities.
These are just some of core reasons for which mobile application development is highly important and necessary for companies that deal in on-demand services and businesses.