By OMSOFTWARE - Web & Mobile App Development Company | Pune
Jul 19 , 2017
Before we talk about the platform - cloud - let us first articulate the core reasons why mobile apps are always far better than developing mobile websites - at least in today's fast changing and evolving world?
Mobile applications always or in the most of cases yield better personalization. Whenever you need to bring in pinpointed customized ideas into a business idea, apps offer greater freedom than the scope the websites offer. Since personalization is extremely critical in developing a winning user experience.
By developing a mobile app, users get higher credibility and enhanced scope to effortlessly target key segments of audiences using push, in-app notifications. Compared to the traditional e-mail alerts, notifications primarily delivered within the boundaries of application, often give greater scope of engagement.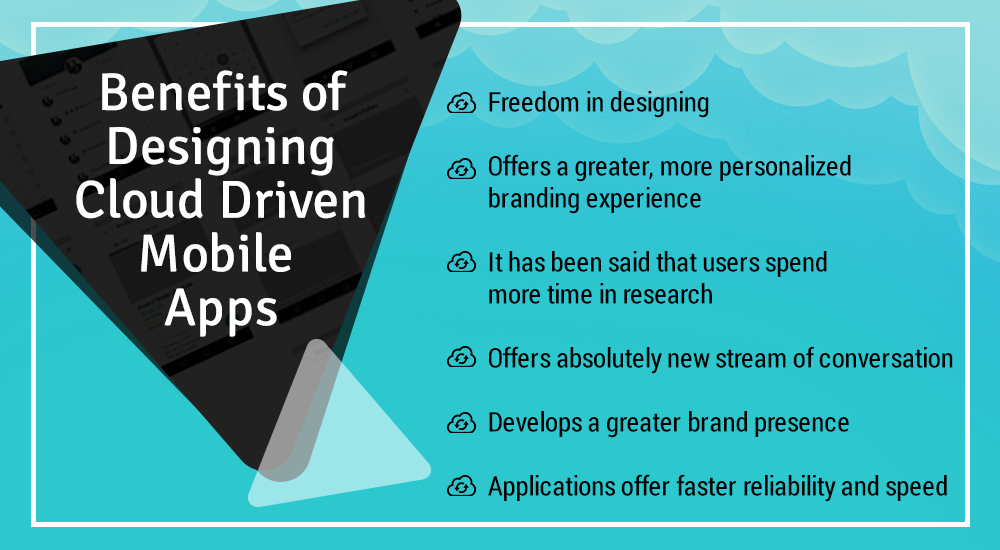 Other than the benefits of designing an application compared to websites mentioned above, here come more on the line -
Freedom in designing
Offers a greater, more personalized branding experience
It has been said that users spend more time in research
Offers absolutely new stream of conversation
Develops a greater brand presence
Applications offer faster reliability and speed.
Now, back to today's discussion - Why use or migrate into cloud platform?
Cloud driven applications are on the rise, and it is a good news that the industry is on the right track. Developers who migrate to cloud platform will be seen as leaders; who are far ahead of the curve. Here are some of the most important reasons why cloud driven mobile apps are on the rise and why these apps are actually the future!
Workflows are moving to the clouds
According to standalone business reports, cloud IP business traffic is likely to grow at a compound rate. The mobile application on the cloud is digitally driving the workflows. The cloud is the enabling glue for the emerging enterprise model therefore designing and Developing Custom Apps on the cloud future proofs the entire work system.
The cloud can reduce costs
The cloud can reduce costs. There are some awesome ways through which you can easily reduce cost by migrating to the cloud; such as virtualization of infrastructure, there is less equipment to maintain on site. In PaaS, there is no need to maintain antivirus software, patches and hardware support.
The cloud can assist in the reduction of development time
Cloud platforms have proven history to dramatically reduce development time. Cloud driven platforms Google, Amazon web services, Microsoft show greater time saving and efficiency. Many developers often find themselves in a state of shock when they discover the metrics.
The cloud platform reduces risk
There are some unique nature that exists within the cloud framework. One of the core ways to understand this is that the cloud has many ways to save a particular or specified data in a specific location or if need be in standalone locations. Compared to traditional hosting, this reduces the risk of losing data.
More comprehensive reasons to opt for cloud when it comes to developing applications
Improved security measures
A common misconception about cloud storage is that they are less secured when compared to offline storage. But in realty the cloud based applications are comprehensively more secured when compared to other means of storage. The cloud-based apps are protected using firewall to prevent intrusion.
Enhanced speed and reliability
Storage capabilities and ease of use
Highly customizable
These are just some of the most notable features that turn cloud -based apps a great source.
However, before you begin with cloud-based service, a few things need to be considered very effectively. Before designing an application, the few important things that you need to ask include -
How many mobile applications do you want to support?
Do you have a specialized BYOD which is short for Bring Your Own Device strategy?
Do you need to use on-device hardware and/or software
What is the core purpose of the app?
How to integrate data with the application?
Now, there are many important things that you need to ask when migrating to cloud platform
Which platform do you want to choose to test and then deploy your app
Hoe secure do you think is the cloud storage platform?
What are the firewall being used to protect the privacy and intrusion?
How affordable or expensive the cloud is depending on the features it offers?
Does your cloud have constant support facility?
How much space could you be able to use on the cloud?
Does it support quick integration and language support?
So, the next time you decide to hire a cloud based services to host and design and subsequently Develop Your Application, you can check out the services offer by OM SOFTWARE - a well-known IT company.